| | |
| --- | --- |
| Posted by Anna Woolston McGuire on June 11, 2013 at 11:45 AM | |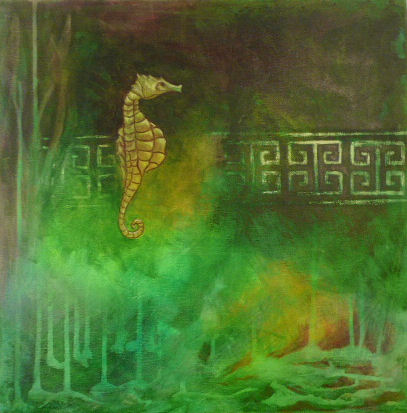 Recently I spent an entertaining two days at St Ives School of Painting, under the guidance of Naomi Frears, and found over the course of the workshop the next step in the direction my work is heading. Although I had experimented with certain ideas and techniques, Naomi helped me to focus and formulate these into a more controlled and complex whole.
I came home and prepared a canvas, using layers of glaze, partially lifted with water, and a stencil for the Greek key motif. The seahorse arrived on the scene when, during rotating the canvas, I decided the water-washed shapes resembled seaweed stems, and remembered I had an old family souvenir of a preserved seahorse to use as a reference. His highlights were lifted out with the aid of cotton buds and eventually an old abrasion bit which took the line right back to the gesso layer on the canvas.
He certainly gained a lot of attention during his brief public appearance but was rapidly rehoused with a very happy owner...